Chancel Choir
The choir lends their talents to the traditional worship service at 9:30 am in sanctuary. They sing hymns, anthems and are accompanied by the organ and grand piano. In addition, the Chancel Choir leads special music services such as cantatas and hymn sings.
If you've been interested in singing, please come out and join us! No audition necessary.
Rehearsals are on Wednesday evenings (September – May) at 7:30 pm in the Choir Room.
If you are interested in being a part of the Chancel Choir, please contact Director of Music, Ryan Ferguson.
Special Music & Talents
We are looking for new ensembles and new ways to plug our church members into leading worship at Saint James UMC. If you sing or play an instrument, we want you involved! No matter your age or ability, we have a way for you to participate in worship. If you want to participate, let me hear from you! Send me an email to Ryan Ferguson.
There is a place for you to share your God-given gifts. No gift is too small! Come join us!
The Saint James Ringers – Bell Choir
The Saint James Ringers welcome anyone in grades 5 to adults to join.
The Ringers play during various 9:30 Worship Services from September – May.
The Ringers practice on Wednesdays from 6:30 p.m. to 7:20 pm in the Bell Room.
If you are interested in being a part of The Saint James Ringers, please contact Laural Clark, Bell Choir Director.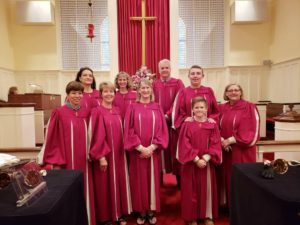 Saint James Choral Intern Program
The Choral Intern program at Saint James is a collaboration with the Marriotts Ridge High School Choral Program, one of the premier choral programs in the state of Maryland.
Select high school choral students are selected by audition each year to serve as section members and leaders in the Chancel Choir, perform solos, and prepare special music for church services.
An intern serves as a contracted staff member of the church for the year, receives a modest stipend, and is allowed the opportunity to share his/her gifts with our congregation while learning the necessary skills as a young music professional.