The Methodist Circuit Riders
The Saint James congregation was born in 1792. Our original church building was a log cabin, erected at Slack's Corner, at the intersection of Routes 32 and 99. Our history dates back to the birth of the Methodist Church, and links us to the historic organization of the Methodist Church, at the Christmas Conference of 1784, in Baltimore. In 1800 and again in 1808, Bishop Francis Asbury, the first Methodist Bishop, ordained at that Christmas Conference, preached from Saint James' pulpit. Saint James' earliest preachers were among the earliest of the legendary Methodist Circuit Riders, who stayed in members homes and preached not only at Saint James, but also at other churches on other circuits. Saint James got her start on the Montgomery and Patapsco circuits.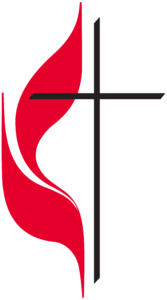 Modernization &
Expansion
In 1885, a new and "modern" church was built on the current site, on Route 99 a quarter mile east of Slack's Corner. Soon a church bell was added, to remind the community where they should be at the hour of worship. Legend has it that if you lived within earshot of the bell, you were expected to be a member of the congregation. Much of the rural community's life centered around the church, which by then had added a Sunday School as a ministry to children, and was also taking up special offerings for mission abroad. Our church building has gone through numerous expansions and renovations, most notably the expansion and renovation of 1969, which gave us our current look.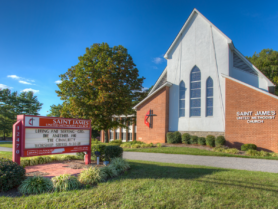 Bicentennial: Onward & Upward
In 1992, we celebrated our bicentennial, and the story of our congregation was published in a volume entitled, "The Saint James Chronicle". Since then we have celebrated our 225th anniversary, and welcomed our next century and a new millennium with ongoing determination to grow in faith and in our relationship with Almighty God and our Lord Jesus Christ. Our mission throughout our many years, formed and reformed by the times, has always been founded upon our resolve to bear the good news of Jesus Christ, and to embody Christ's love, by being in ministry and mission with and to our world.